Release date: December 9, 2020
Configuration:
Cards per pack: 6
Packs per box: 1
Boxes per case: 10 (two 5-box inner cases)
Box Break:
- "Premium" Cards – 5
- 2020-21 Exquisite Collection Cards – 1
2020-21 Upper Deck Black Diamond Hockey is all sparkle and shine once again with a configuration that boasts a mix of autographs, memorabilia, diamonds and other premium cards. It's a similar high-end approach the line has used for several years now.
While there's no specific promise on the mix of cards in any given hobby box, according to Upper Deck, everything is "premium." Autographs combine to land four per every five-box inner case. Diamond Relics are one per inner case.
2020-21 Upper Deck Black Diamond Hockey Base Set Basics
Veteran base cards come numbered to 299 copies. They bring a design that evokes the Black Diamond name with one side going dark. The other half of the card is in direct contrast with a colorful backdrop.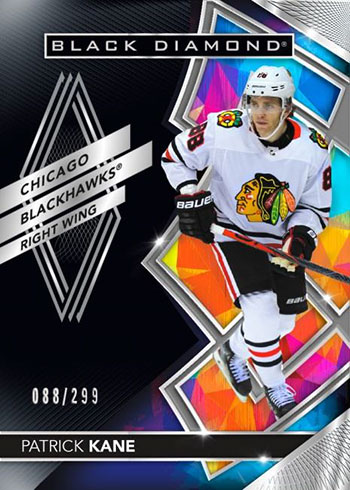 Standard Pure Black parallels have 99 copies each. There are also Diamond Relic parallels that have anywhere from one to four gems. These come numbered to 5 and have additional one-of-one Pure Black versions.
Select base cards also have Pure Black Autographs and Premium Relics, both of which have varying print runs.
Diamond Relic Rookies highlight first-year players. While all are numbered to 99, there's a tiered system to the number of diamonds on each card. Top prospects get four while others come with three, two or one. Ruby (/49), Emerald (/10) and Pure Black (1/1) make up the parallels.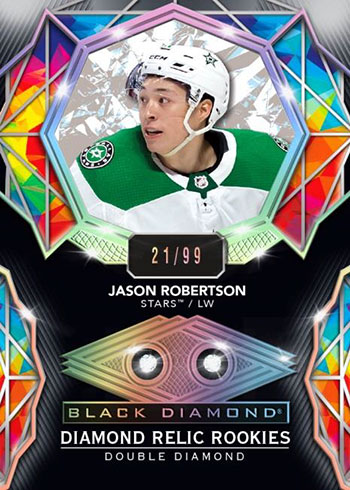 Autographs and Memorabilia Cards
Gemography has been a Black Diamond staple for years, acting as one of the checklist's autograph anchors. It's back but with an upgrade. Autographs are accompanied by a diamond relic. Cards are numbered to 25 and the checklist mixes vets, rookies and retired stars.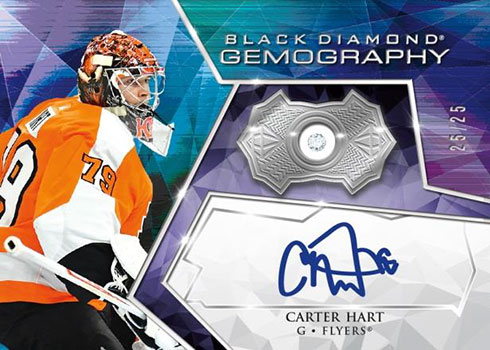 Silver on Black Signatures are exactly as advertised. Autographs are in silver ink on a black surface, offering plenty of contrast. Veterans have varying print runs while rookies have 249 or 99 copies each, depending on the player. Spectrum parallels bring with them smaller print runs.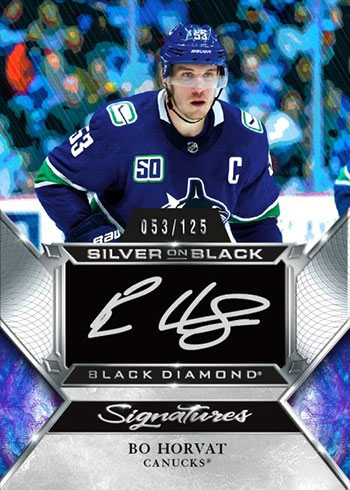 Other autographs themes include Jewels of the Draft (/99) and Sparkling Scripts (1:12 packs, Spectrum /25).
On the memorabilia side, there's Diamond Mine Relics (1:4 packs) as well as Dual (1:12) and Triple (1:36) versions. Premium parallels top out at 25 copies each.
Additional Inserts
Historically, Black Diamond's checklist is lined with several premium-style inserts. 2020-21 is no difference.
Among them are new Diamond Stars (/99), Diamond Legends (/49) and Diamond Futures (/249). In addition to the regular versions, there are Autograph and Premium Relic Auto version. For Stars and Legends, print runs on these vary. Diamond Futures Autographs have 99 copies while Premium Relic Autos have 25.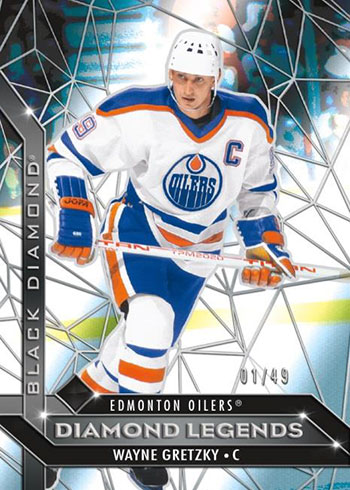 Winter Classic Memories (1:5) also make their debut. These look back at past games and their stars. Gold and Gold Autograph versions are available with the print runs determined by the final two digits of the game's year (ie 2018 = 18 copies).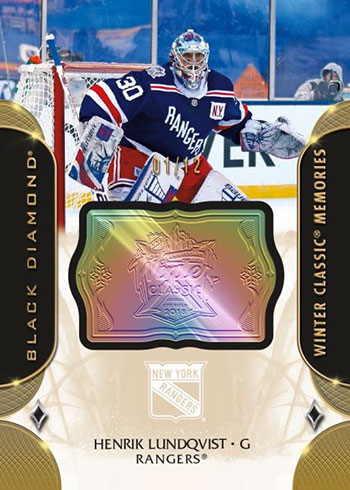 Rookie Gems (/399) inserts are complimented by Spectrum (/99), Pure Black Signatures (/199 or /99) and Pure Black Signatures Spectrum (1/1) parallels.
Other inserts include Diamonation (/99), Diamond Might (/99), Run for the Cup (/99), Diamond Cutters (1:20 packs) and Diamond Gallery (1:20).
2020-21 Upper Deck Black Diamond Hockey brings back some manufactured patch inserts for another round. Team Logo Jumbo Patches (1:5) offer up a puzzle approach that put a different spin on set building. These use a variety of logos including the 2020 All-Star Game, alternate logos from the Bruins, Oilers and Coyotes, and St. Louis' retro jersey. Gold parallels come in three versions: Full Team Logo (/15), Full Team Alternate Logo (/5) and NHL Shield Logo (1/1).
There's also separate Rookie Team Logo Jumbo Patches (1:2) and their Retro Logo Variants (1:8). Autograph versions are also available with print runs that max out at 99 copies.
Retired Numbers Patches (/99) feature some of hockey's greats. These have Gold and Gold Autograph parallels where print runs match the player's jersey number.
Exquisite Collection
2020-21 Exquisite Collection Hockey kicks off in Black Diamond. Every pack has one such card that falls under the Exquisite banner with a variety of themes.
Exquisite Collection Rookies (/299) is one place to find first-year talent. These Gold parallels (/99) as well as Patch Variant (/99) and Patch Gold (1/1) versions.
There's also Rookie Draft Day (/199), which have Gold versions numbered to the spot in the draft the player was taken.
Rookie Jumbo Materials are on the tough side with just ten copies each as well as a one-of-one Gold parallel.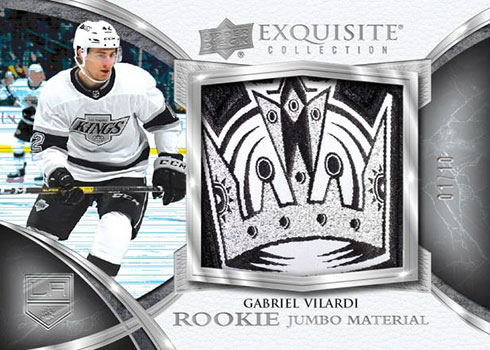 More Exquisite memorabilia is available in Veteran Materials (/49 or /25). Gold parallels are limited to 3.
Taking it back more than a decade are 2006-07 Retro Veterans and Rookies. In both instances, base versions have 299 copies. Gold Veterans are numbered to 10 while Rookies have 25 copies.
The Exquisite lineup rounds out with Performers (/149) and Extra Exquisite Jersey (/149).